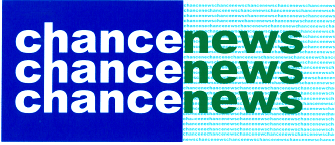 Chance News
is a wiki that takes statistics in the news and analyzes it for mistakes and interest. There is a semi regular newsletter that comes out. In it there is a section called Forsooth where they showed statistical issues presented by the media. This link is a summary of the best ones since 2005. There is a literal pile here from subjects like percent, probability, stats and more. Perfect to bring up in any class. It's not very visual but each example has a link to the original post which usually has more information.
"I realize I don't have a chance, but nobody's got a chance. So the way I look at it, I have a 50-50 chance -- either I win it or someone else wins it,' reasoned Barrie Green, 60, after buying a single ticket Monday afternoon …."
If you are interested in the actual newsletter, you can click
here
to subscribe.
Curriculum Tags: All
https://www.causeweb.org/wiki/chance/index.php/Collected_Forsooths
An introductory sampling activity you could use to start to get the idea about how sampling works with a data set. There are handouts, ppts, and instructions all here.
Curriculum Tags: Gr7, Gr8
http://www.sciencefriday.com/educational-resources/learn-sampling-with-candy/
Via @rmbyrne at Free Technology for Teachers, here's a post on Two Graphing Tools for Google Docs. Even though you can use an equation editor by default, these tools allow you to do CAS and graphing right in your docs.
Curriculum Tags: All
http://www.freetech4teachers.com/2016/08/two-graphing-tools-for-google-docs.html
Curriculum Tags: All
http://econlog.econlib.org/archives/2016/09/the_math_myth.html
Curriculum Tags: All
http://99percentinvisible.org/episode/on-average/
Curriculum Tags: Gr7, Gr8, MDM4U, MAP4C
http://fivethirtyeight.com/features/our-national-love-affair-with-pokemon-go-might-be-short-lived/