Curriculum Tags: All
http://robertkaplinsky.com/why-depth-of-knowledge-is-critical-to-implement/
Curriculum Tags: All
https://tapintoteenminds.com/2015/03/02/join-march-9th-free-otf-connect-webinar/
A few weeks ago I mentioned Michael Fenton's
Match My Line/Parabola
Desmos activities. He has an updated post on the match my line version with samples of student work and different versions (including a paper & pencil version). Even though it's the same activity, I like it so much I thought I would mention it again. The focus here is how to create your own versions.
Curriculum Tags: MPM1D, MFM2P
http://reasonandwonder.com/match-my-line-%E2%80%A2-create-your-own/
More work from Michael Fenton. This time using one of my other favourite resources,
visualpatterns.org
. It's a neat workflow for students to start with the first three terms of the pattern and work towards the equation of the relation, using paper and pencil, a foldable and Desmos in between. This same workflow could be modified slightly for grade 7&8 students by just removing the equation component.
Curriculum Tags: Gr7, Gr8, MPM1D, MFM2P
http://reasonandwonder.com/visual-patterns-desmos-amazing/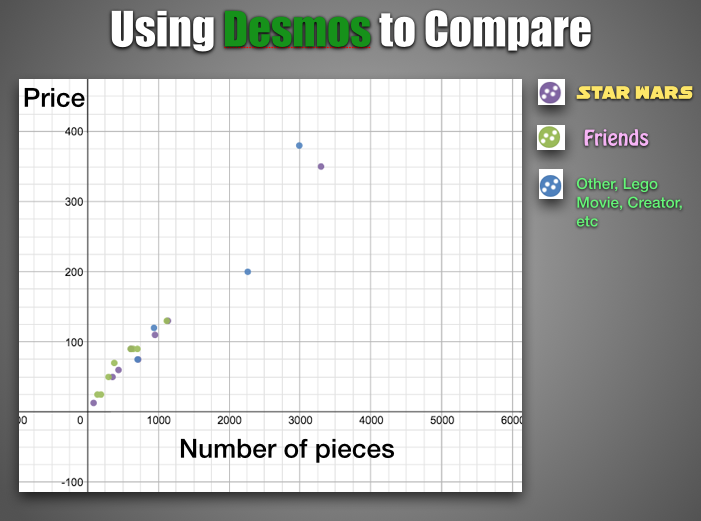 I like this one from Jon Orr asking whether Lego are gender biased. It's a big activity. Students have to collect data (from the web) about various Lego sets, their number of pieces and cost (from various themes - Starwars, Disney etc). Then they calculate the unit rates, graph the data and then try to answer the question about gender bias. Take a look
Curriculum Tags: MPM1D, MFM1P, MDM4U, MAP4C
http://mrorr-isageek.com/?p=3736
I know it's not Pi Day yet. But this year's Pi Day is a one-in-a-century event 3-14-15 at 9:26:53 won't happen again until another 100 years has passed. So here's a link to my Pi Day Pinterest board (which I will probably post again next week)
Curriculum Tags: All
https://www.pinterest.com/davidpetro314/pi-day/
one of these last
year at OAME and will doing one again this year. So I am a bit partial to good ones.
Curriculum Tags: All
http://reasonandwonder.com/ignite-talk-video-%E2%80%A2-technology-and-the-curious-mind/
Curriculum Tags: Gr8, MPM1D, MFM1P, MDM4U, MAP4C
http://fivethirtyeight.com/features/how-long-can-a-spinoff-like-better-call-saul-last/
Though technically not from 538, this was pointed out on their site. This neat analysis of student responses on multiple choice tests to determine whether they have cheated. Students results were paired up and when they got the same answers for each question. The results were the graph seen below. Can you pick out the cheaters. Spoiler alert, the line represents a perfect match for two tests.
Curriculum Tags: MDM4U
http://flowingdata.com/2015/02/25/identifying-cheaters-in-test-results-a-simple-method/